At Leadership Transformation International, we are committed to partnering with you to develop your leaders and employees to their highest potential. LTI is a training organization focused on leadership development through our two flagship seminars – Emotional Intelligence 2.0 and The Leadership Challenge. Each of our training seminars are engaging, highly interactive and designed to provide each participant with the tools they need to immediately implement what they have learned as well as the resources necessary to continue their development long-term.
Click on either button to learn more, or continue to scroll down.
EMOTIONAL INTELLIGENCE WORKSHOP
The cornerstone of the LTI Training Program is our Emotional Intelligence Workshop and Assessment.
The EQ-I 2.0 workshop and assessment is one of the most robust programs available today.
What is Emotional Intelligence?
Emotional Intelligence (EI) can be defined as a set of emotional and social skills that influence the way we perceive and express ourselves, develop and maintain social relationships, cope with challenges, and use emotional information in an effective and meaningful way.
Why is EI important?
While emotional intelligence isn't the sole predictor of human performance and development potential, it is proven to be a key indicator in these areas. Emotional intelligence is not a static factor – to the contrary, one's emotional intelligence changes over time and can be developed in targeted areas.
A Scientific Approach to Talent Development
For almost 20 years, consultants and organizations have trusted the science that underpins the EQ-i 2.0® (and its predecessor the EQ-i 1.0) to help improve human performance. The EQ-i 2.0 is a psychometric assessment which measures emotional intelligence (EI) and how it can impact people and the workplace. Being the first scientifically validated measure of EI, coupled with research from premier organizations, means you can count on the EQ-i 2.0 to add robustness and accuracy to your talent management initiatives.
Applications of Emotional Intelligence include:
Team Building

Student Development
Leadership Development

Selection

Organizational Development
The 1-5-15 factor structure: The EQ-i 2.0 features one overarching EI score (Total EI), broken down into five composite scores which measure five distinct aspects of emotional and social functioning. These in turn, are broken down into a total of 15 subscales.
EQ-i 2.0® QUICK FACTS
AGE RANGE
18 years or older
ADMINISTRATION TIME
15 - 30 minutes
NUMBER OF ITEMS
133
USED IN 60+ COUNTRIES
FORMAT
Online Portal for quick and easy administration and scoring
REPORT OPTIONS
Workplace

Leadership

Group

360

Higher Education
QUALIFICATION LEVEL
B (North America only)

EQ-i® Certified
TRAINING & WORKSHOP OBJECTIVE
While it's no secret that EQ is critical to your success, knowing what emotional intelligence is and knowing how to use it to improve your life are two very different things.
At the end of our workshop, it is our goal for each participant to be able to:
Understand of each of the five main components and fifteen sub components of emotional intelligence

Recognize the interaction and synergy between each of the components

Have a greater level of self-awareness

Apply techniques to improve how they express themselves and interact with others

Have greater levels of empathy and social-awareness

Improve efficiency and effectiveness of their decision making ability

Manage stress with clarity and confidence

Develop a growth and improvement plan
WORKSHOP TIMEFRAME
Full Day Workshop (6-8 hours), with optional second day dedicated to up to five one-on-one consultations.
THE WORKSHOP INCLUDES
Emotional intelligence (EI) presentation

EI Workshop workbook

A copy of The EQ Edge by Steven J. Stein and Howard E. Book

One on one and group Interactions

EI Development and improvement plan

EI online assessment (Optional, but recommended)

Interpreting and reviewing the EQ-I 2.0 report within the class with an accountability partner or one-on-one with an LTI consultant (additional cost)
THE LEADERSHIP CHALLENGE
The Leadership Challenge® Workshop is a unique, intensive, and highly interactive experience that has served as a catalyst for profound leadership transformations in organizations of all sizes and in all industries.
The Leadership Challenge® Workshop will engage you and your leaders through experiential activities, workbook exercises, group problem-solving tasks, video cases, and lectures. And you'll get plenty of hands-on practice applying The Five Practices leadership model to current organizational and personal leadership challenges.
Immensely practical and hands-on, The Leadership Challenge® Workshop is designed to inspire, engage, and help your leaders develop the skills needed to meet whatever leadership challenges lay ahead. The core curriculum is structured around seven components, including five independent modules that focus specifically on each of The Five Practices of Exemplary Leadership® that lead people from ordinary to extraordinary.
LPI: LEADERSHIP PRACTICES INVENTORY®
Each module describes the practice, reviews the Leadership Practices Inventory (LPI) items related to that practice, and ends with techniques that asks participants to reflect on how to apply what they've have learned to a current leadership challenge of their own.
"Leadership is the capacity to translate vision into reality."
With a plan of action in-hand for taking the key learnings from the workshop back to the workplace, leaders will be prepared to implement these new leadership practices back on the job, beginning Day 1.
WHAT ATTENDEES WILL RECEIVE
✓ A unique and highly interactive two-day program that focuses on The Five Practices of Exemplary Leadership®, developed from the original and proven research of best selling authors Jim Kouzes and Barry Posner
✓ The Leadership Challenge Participant's Package: a Participant Workbook, Practice Book, Vision Book, Values Cards, TLC Card and The Leadership Challenge (5th Edition) book.
✓ The Leadership Practices Inventory Online 360 Assessment: includes LPI Self and unlimited LPI Observers (direct reports, manager, co-workers, etc.}. Participants receive confidential feedback relating to the frequency of their use ofThe Five Practices.
✓ Other standard program materials and take aways.
✓ Experiential activities (indoor}
✓ A truly memorable experience, with lessons that stick
WHAT YOU WILL TAKE AWAY
The assessment products and development tools, group activities and individual exercises used in The Leadership Challenge® Workshop are all designed to help aspiring and accomplished leaders alike achieve their personal best and improve their effectiveness in a leadership role. Upon completing the workshop, participants will be able to:
✓ Identify the frequency of their personal leadership behaviors-as measured by the Leadership Practices Inventory and proven to enhance the effectiveness of leaders
✓ Clarify and communicate their fundamental values and beliefs
✓ Set the example for others by aligning their actions with shared values
✓ Express their image of the future
✓ Inspire others to share a common vision
✓ Search for opportunities to change and improve
✓ Experiment with innovative ideas and learn from accompanying mistakes
✓ Build collaboration, teamwork, and trust
✓ Strengthen the ability of others to excel
✓ Recognize the accomplishments of others
✓ Apply the lessons learned in the workshop to a current organizational challenge
THE FIVE PRACTICES OF EXEMPLARY LEADERSHIP
Leaders establish principles concerning the way people (constituents, peers, colleagues, and customers alike should be treated and the way goals should be pursued. They create standards of excellence and then set an example for others to follow. Because the prospect of complex change can overwhelm people and stifle action, they set interim goals so that people can achieve small wins as they work toward larger objectives. They unravel bureaucracy when it impedes action; they put up signposts when people are unsure of where to go or how to get there; and they create opportunities for victory.
2) Inspire A Shared Vision
Leaders passionately believe that they can make a difference. They envision the future, creating an ideal and unique image of what the organization can become. Through their magnetism and quiet persuasion, leaders enlist others in their dreams. They breathe life into their visions and get people to see exciting possibilities for the future.
Leaders search for opportunities to change the status quo. They look for innovative ways to improve the organization. In doing so, they experiment and take risks. And because leaders know that risk taking involves mistakes and failures, they accept the inevitable disappointments as learning opportunities.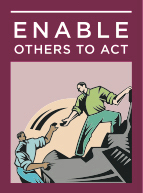 Leaders foster collaboration and build spirited teams. They actively involve others. Leaders understand that mutual respect is what sustains extraordinary efforts; they strive to create an atmosphere of trust and human dignity. They strengthen others, making each person feel capable and powerful.
Accomplishing extraordinary things in organizations is hard work. To keep hope and determination alive, leaders recognize contributions that individuals make. In every winning team, the members need to share in the rewards of their efforts, so leaders celebrate accomplishments. They make people feel like heroes.
Overall, The Leadership Challenge® model emphasizes behaviors and has a prescriptive quality: it recommends what people need to do in order to become effective leaders. Their model is not about personality; it is about practice. At LT/, it is our goal for each of your leaders to not only improve the performance of those they lead, but to develop each of them to their fullest potential. Because investing in people will ultimately yield the greatest ROI; not just on the Financial statements, but on employee satisfaction, productivity, and turnover.